Marriages at St Mary MacKillop Parish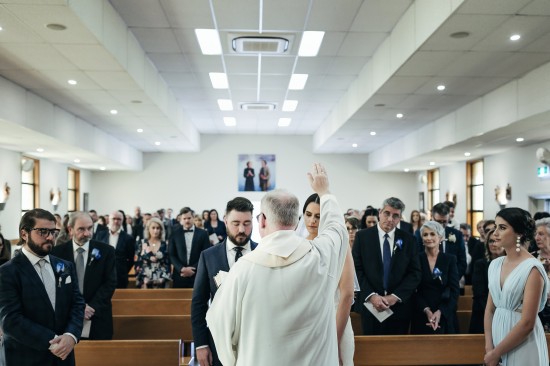 The clergy of the parish are available to celebrate the Sacrament of Marriage at our Leppington and Oran Park Mass Centres and depending on their availability to celebrate the Sacrament at Mater Dei Chapel, Camden.
The parish clergy are unable to celebrate the Sacrament of Marriage at other churches, or at reception centres or outdoor venues.
Preparing for a Catholic Wedding
It is important that couples give least six months' notice to the officiating priest/deacon and ensure the date/time they have chosen for their wedding ceremony is booked in with the parish before speaking to function centres and other wedding suppliers.
In our parish, along with the CatholicCare Marriage Preparation Course, we encourage couples to prepare for the Sacrament of Marriage through the 'SmartLoving Engaged' marriage preparation program: that includes both online modules and meeting 'face to face' with an appointed Marriage Mentor couple.
SmartLoving Engaged is suitable for all couples preparing for marriage in the Catholic Church, especially those who are a long-distance couple, frequent travellers, shift worker, or have caring commitments.
Documents Required for Marriage in the Catholic Church
At your first meeting with the parish clergy, you will be asked to bring the following documents (originals are required) so that the required government and church paperwork can be prepared:
Birth Certificate – Available from Registry of Births, Deaths and Marriages
Baptism Certificate – A copy issued within the previous six months, available from the parish where you were baptised.
If either party has been married before:

Death certificate of former spouse or
Decree of Nullity (from the Catholic Marriage tribunal) AND a Civil Divorce Decree.

Drivers Licenses (or passports) as photo ID is required.
Marrying a Non-Catholic
Permission can be given for a Catholic to marry someone who is not a Catholic, provided that the Catholic promises to safeguard his/her own Catholic faith and to do all in his/her power to have the children of the marriage baptised and brought up as Catholic. The partner who is not a Catholic is not required to make any promises but is informed of the expectations the Church has of the Catholic partner.
If you have any further questions about booking a marriage in the parish, please contact the Parish Office, via email oranpark@dow.org.au or ph. 4648 2226 from Monday - Friday between 9am – 1pm.