Baptisms at St Mary MacKillop Parish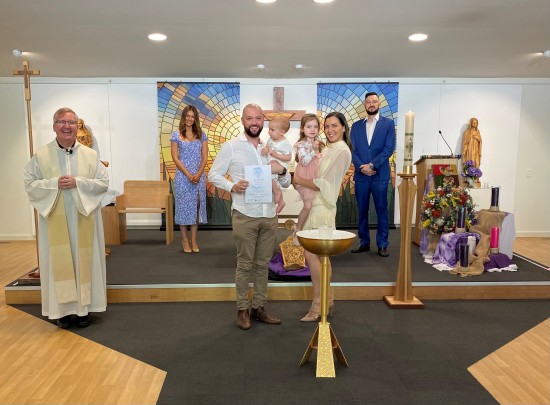 On a number of Saturdays each month we now celebrate an 11am session of baptisms at our Oran Park Mass Centre - 94 Oran Park Dr, Oran Park.
To fulfill the government covid19 requirements for 'places of public worship' we have had to limit the number of people that can attend a baptism ceremony at our Oran Park Mass Centre. As we need to celebrate 4 baptisms per session - families will only be allowed a limited people to attend per candidate.
To make a booking, please send an email to the Parish Office (oranpark@dow.org.au) and a 'baptism pack' that includes the link to a special Eventbrite page will be sent to you.
On this Eventbrite page you will see all the days when baptism sessions are available. You will also see how many spots are free for each session. When registering, via this Eventbrite link, you will need to have the names and contact details of all guests, as this information is required to fulfill government directives.
It is essential that you read through the covid19 protocols and directives that you will find outlined on the Eventbrite page before proceeding with a booking.
All families presenting their child/ren for Baptism will be required, prior to their chosen baptism date, to attend a compulsory Baptism Preparation Evening. To fulfill covid19 protocols these sessions will be held on a midweek evening via Zoom. Families will be required to nominate the preparation session they wish to attend at the time of booking.
If you have any further questions about the baptism ceremony please contact Jenny at the Parish Office, via email oranpark@dow.org.au or ph. 46482226 from Tuesday - Thursday between 9am– 12noon.