'Home sweet home' for Australia's newest Catholic Parish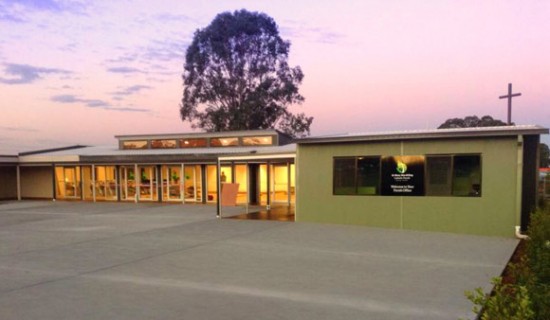 When most people think of a church building they think of steeples, pews and stained glass windows. But for the past twelve months, parishioners and visitors at St Mary MacKillop Catholic Parish Oran Park, in the heart of the South West Sydney Growth Centre, have celebrated their weekend church services (Masses) among bookshelves, children's artwork and computer terminals. That's because the Parish (founded in June 2015) has been calling the library at St Justin's Catholic Primary School Oran Park their home on Saturday evenings and Sunday mornings.
But that's all about to change on the weekend of 7 May 2016 when the Parish gathers for the first time in their brand new purpose-built church and parish centre located near the entrance to the new Catherine Park Estate on Oran Park Drive.
The new St Mary MacKillop Catholic Church and Parish Centre will serve the exponentially growing Catholic community in Oran Park and will allow the Parish (which also has a church in Leppington) to continue to build on the welcome and hospitality that it is already renowned for in such a short period of time.
Founding Parish Priest, Fr David Catterall, said, "It's a bit like leaving the house you have been renting to move into your own home. You don't expect it, but saying goodbye to the school library that has served us so well is hard even when you're moving into something that is purpose built for us.
"As the newest Catholic parish in Australia, we've made a lot of great memories in the St Justin's library, and as a parish community, we will be always be grateful for the support we have received from the staff, parents and students of the school."
Although the weekend congregation will no longer be physically present in the school, the ties to the school will remain strong as it is one of the vibrant ministries and works of the Parish for Fr David, the parishioners, and the newly appointed Sister of St Joseph, Sr Mary McDonnell SOSJ. The new church and parish centre was designed and constructed by Eastern Portable Buildings using a hybrid of offsite component fabrication and parallel onsite works allowing the new building to be constructed in a very short time frame.
While the first Masses in the new church will take place on Saturday 7 May at 5pm and Sunday 8 May at 10am and 5pm, this 'new spiritual home for the local community' will be officially opened and blessed by Bishop Peter Ingham (Bishop of Wollongong) at 5pm on Saturday 28 May 2016. Everyone is warmly invited to attend.