Big plans for Oran Park Mass Centre extension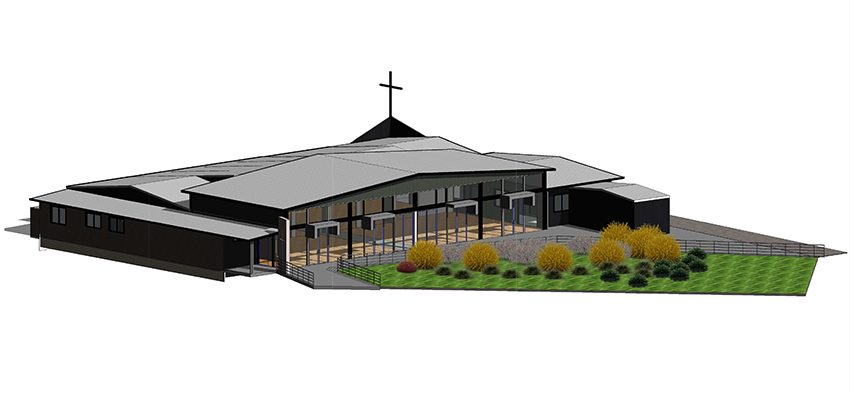 I am sure some of you have had the experience as a couple of renting or buying your first home, only to find that while it was ok when there was only two people in the house, that when the children and grandchildren came along you needed to add an extra room or even move to something bigger.
Just as this reality applies to domestic households, this is also a reality when it comes to our exponentially growing parish family of St Mary MacKillop.
It has become clear that as the number of parishioners increases, extra room is needed not only to cater for those of us who currently call this parish 'our family' and 'our home', but to cater for those who continue each and every week to move in and become part of the family of St Mary MacKillop Parish. And so with the support of Bishop Brian Mascord, over recent months Fr David and the members of our Parish Leadership Team have been working with diocesan staff and Eastern Portable Buildings (who constructed the current southern Mass centre) to look at creative and economical ways to add an 'extra spare room' (using the earlier analogy) to our existing southern Mass centre at Oran Park.
Any extension to our current Southern Mass centre comes with a cost, but at a time in our history when some very well established parishes are reducing the number of their weekend Masses and even contemplating the closure of their parish churches that are now too big for their dwindling congregations, we are blessed to be a part of a parish that is growing and, as we have witnessed, is growing at an exponential rate. We are blessed to be members of a parish that has the problem of running out of room – as someone said this isn't a problem, rather it is a grace filled and God-blessed opportunity. This project isn't just about constructing an extension to a building, rather this project is "a bold platform for our vision to grow disciples" not only for those who currently come to Mass but for those who we are inviting and welcoming to join us. It will be an amazing illustration in glass, wood and steel of who we are as a parish, and what has been achieved by all of us, through God's grace, over the five short years of our life.
Would it be cheaper and easier to just put a more permanent roof on 'alfresco'?
One solution was to just add a more permanent covered area to the space known by many as 'alfresco', however to add a permanent roof would still see parishioners looking through the doors and windows into the main body of the church, and not deal with the issue of rain, wind and sun that can often detract from the 'weekend mass experience' of parishioners and visitors. So, it has been decided to fully enclose 'alfresco' and thus make the main body of the church even bigger. To do this comes at a cost – of nearly $400,000 – that we will have to add to our existing loans that have been taken out for the construction of our southern Mass centre and priest residence in Catherine Park Estate, and the renovations of our northern Mass centre and our parish house at Leppington (currently used the Sisters of St Joseph as a convent).
Why not wait and build a more permanent church?
Clearly due to this cost, some thought has been given to 'holding off' and waiting for the building of a more permanent church and parish facilities on our Southern Mass precinct. However it has become clear that while there has been a great deal of preparatory work undertaken by our Parish Development Project Group, that has been formed by Fr David, to create a concept for 'The MacKillop Community' (a cross-generational, multi-functional Catholic precinct, that with a new church, the two schools and the Montessori Academy can offer other vital parish and community services on our Southern Mass site) as well as undertake, with other community and diocesan stakeholders, some visioning around the best way to cater for those who currently and into the future will worship at (as well as live and work around) our Northern Mass centre at Leppington, there is still much to do.
As such, this extension to our current Southern Mass centre (that will increase the seating capacity from 250 inside and 150 outside in alfresco, to approx 400 people all under the one roof) will offer us, in a shorter time frame, more space and a place where we can continue to live out OUR VISION as a parish, especially by offering an 'all weather' place that parishioners and visitors to our Southern Mass centre can use for the celebration of weekend Masses and our growing number of parish ministries.
What will happen to this renovated Southern Mass centre once a new Church/Parish Centre is one day constructed?
It has become clear to Fr David and the Parish Leadership Team that this new space will offer countless opportunities for the parish into the future. Imagine having a larger place where our amazing MacKillop Youth groups or our Little Joeys Playgroup or MacKillop Crafters can gather; Imagine having a place where we can hold our Alpha gatherings, that up to now (in rain, hail and shine) have had to use the current alfresco for their meals and small group gatherings. Imagine having a place where our current and future families whose children are preparing for the sacraments can gather; Imagine having a place… I am sure each of us will have some creative suggestions… It is clear that while, one day in the future, this extended Southern Mass centre might not be used as a church, it will always be a hub and a multi-functional place that we as a parish family can use for the living out of OUR VISION.
How can I support the funding of this project to extend and grow our Southern Mass Centre?
Over the last 5 years, many have shared willingly of God given gifts of time, talent and treasure. Without such stewardship we as a parish would not be able to live out OUR VISION. Offerings can be made to this project via our parish website, or by collecting a flyer from the Info Tables at our Mass centres. Also, as is being used in other parishes in our diocese and around our nation, we will soon have the option for those of us who don't regularly carry cash, to make offerings to this project through a 'tap and go' facility that will be set up at our Southern Mass centre. Offerings to fund the project can also be made HERE.
When we will find out more about this exciting project?
Through our parish website, our parish e-newsletter THE OVERVIEW and announcements at parish Masses, Fr David and our Parish Leadership Team will keep us informed as this project - soon to begin a DA process through Council - becomes reality and we are asked to keep this important project (along with The MacKillop Community project) in our prayers.
We'll also have more Q&A on The MacKillop Project, and the ongoing visioning for our Leppington and Oran Park Mass centres in the February-April 2020 issue of our quarterly parish magazine 'Partners in Mission'.