2020 Sacramental Dates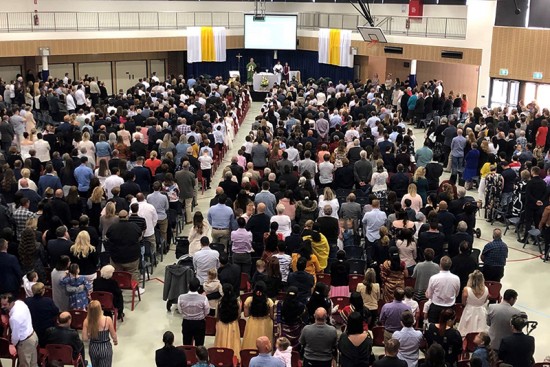 As so many people are already preparing their 2020 diaries, we have once again decided to publish—before the end of the school year—the dates for our parish celebrations of First Reconciliation, First Holy Communion (Eucharist) and Confirmation, in 2020.
Our 2020 sacramental program includes a number of exciting changes and initiatives to support families presenting their children for the sacraments in our parish: including a change to the sequence of when we will celebrate these Sacraments during 2020.
First Reconciliation will be celebrated in Term 1 of the school year.
First Holy Communion (Eucharist) in Term 2 of the school year.
Confirmation in Term 3 of the school year.
We ask that you take note of the dates and include them now in your diaries. As these 2020 dates are being sent out now, we hope that families will be able to work their other commitments around the dates and make the celebration of these sacraments and the 'sacramental preparation process' a priority.
The parish's weekly celebration of the Mass is at the heart of the preparation program for all the sacraments.
While catechists, teachers and members of the parish sacramental team will, once again in 2020, support our parish sacramental programs, the most important "teachers" for the children preparing for these sacraments will be you—their parents and families.
PARENT INFORMATION SESSIONS
It is essential, if you want your child/ren to receive any of the sacraments of initiation, that you attend the Parent Information Night for the relevant sacrament.
In our parish, baptised children in Year 3 and above, can make their First Reconciliation and First Holy Communion, and children in Year 6 and above, who have made their First Holy Communion, can receive Confirmation.
First Reconciliation 2020 & First Holy Communion 2020
3:30pm-5:00pm or 7:00pm–8:30pm (only required to attend one)
Wednesday 13 November 2019
Southern Mass Centre, 94 Oran Park Drive, Oran Park
Confirmation 2020
3:30pm-5:00pm or 7:00pm–8:30pm (only required to attend one)
Wednesday 22 July 2020
Southern Mass Centre, 94 Oran Park Drive, Oran Park
Responding to the feedback from families involved in our 2018 Sacramental Programs and mindful of the limited space in our Oran Park Mass Centre to gather, we will be running two Information Sessions on the same day – a session at 3.30pm-5pm, and a session from 7pm-8.30pm. (Families are only required to attend one of these information sessions.)
We will explain at the Parent Information Session the various "steps" associated with preparing for the Sacrament, along with practical details regarding the online workshops, the weekly reflection sheets, the Reflection Day, the Alpha experience for adult family members and the actual ceremonies:
The enrolment form for the Sacrament will also be handed out at this Parent Information Session.
No enrolment forms will be able to be collected from the Parish Office or schools or catechists.
Please note: Again in response to feedback from families involved in our 2018 and 2019 Sacramental Programs there will be a combined information session for both "1st Reconciliation and 1st Holy Communion", rather than an information session for each Sacrament.
For more information on our 2020 sacramental program contact oranparksacraments@dow.org.au
Click to download the information pack.